A quality label museum

The Eyewear Museum was awarded "Musée de France" status by the French Ministry of Culture when it first opened in 2005.
---
The Museum is also a member of the Engrenages network which consists of 19 sites in Franche-Comté and Switzerland. Working together as an association, the different sites create economic and technical discovery trails, linking traditional know-how and high-tech industries to create connections between the past and future.
The Museum also benefits from the "Qualité Tourisme" label which guarantees visitors a high-quality welcome and comfortable visit.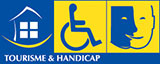 The Museum is also fully accessible for disabled visitors and has been awarded the French "Tourism & Disability" label.
Back