Visiting the region

Nestled in the heart of the Haut-Jura Regional Park, and crossed by the river Bienne, Morez has a rich industrial and artisan tradition: nail making and forging (16th century), clock making (17th century), enamel working and eyewear manufacturing.
Morez is also a fantastic playground for fans of outdoor activities, in particular hiking, mountain biking and via ferrata climbing.
---
To do: stroll the streets of Morez on the enamel circuit to explore the town's industrial heritage, visit the Maison de l'émail (Enamel Museum), climb the Roche au Dade using a via ferrata route, and take to the Bienne discovery trail and its rope bridges.
---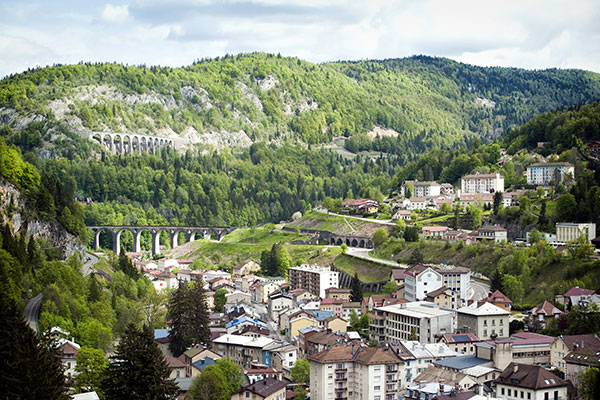 To see: viewpoints overlooking the town (Roche au Dade, Roche Brûlée); the town hall; impressive houses (Villa Eugénie, Château Jobez, Maison Lamy with its silver hand); stairways and courtyards; Lycée Victor Bérard secondary school and its Art Deco architecture, and of course the viaducts and famous Ligne des Hirondelles tourist train.
The Ligne des Hirondelles crosses the Jura from north to south, from Dole to Saint-Claude. Along its 123 km, you'll discover a wide variety of Jura landscapes, together with 22 viaducts and 36 tunnels – works of art and feats of technical engineering symbolising a human adventure from the early 20th century!
The section of track between Morbier and Morez gives you a unique, bird's eye view of Morez and is an exceptional technical achievement, the two towns being only 1.5 km apart as the crow flies but separated by a height difference of 150 metres! The result is 5 km of track that hugs the mountainside, crosses three viaducts and passes through a 1,500 m tunnel in the shape of a horseshoe.
The tourist offices in Morez, Dole and Saint-Claude work together to offer special tourist deals on the line throughout the year.For example, a discovery tour of local know-how which includes a visit to the Eyewear Museum.
---
Pour plus d'informations :
Ville de Morez, commune des Hauts de Bienne
Place Jean Jaurès
Morez
Tel : ++33 (0)3.84.33.10.11
www.ville-morez.fr
Tourist Office Oh ! Jura
Place Jean Jaurès
Morez
Tel : ++33 (0)3.84.33.08.73
www.haut-jura.com
tourisme@haut-jura.com
Back